With PicsToMix, you can curate your own collection of photos and stick them onto the wall. We print them for you directly onto high-quality gallery foam, made of recycled plastic, that easily stays in place. No need for drilling, drawing pins or screws and it's easy to replace them with other photos.
Our PicsToMix app enables you to select photos from your smartphone and even edit them or add filters. Then preview what the tiles will look like and complete the order and payment using our app. You can log in with your Instagram account and select your favourite photos, too.
With PicsToMix, you can have an artwork on the wall within days, packed full of great memories. Order now and discover the great quality of PicsToMix. We have three different formats. A Mini tile (9,5 cm x 9,5 cm) costs only € 5.95 EUR and the Original tile (21 cm x 21 cm) is only € 10.95. Wide tiles (44 cm x 21 cm) are € 20.95 each.
Make your memories stick – without drilling holes!
Follow us on social media
Different formats
With our formats "Mini", "Original" and "Wide" you can become creative yourself. Your best memories become a piece of art on the wall.
Quality
We print your photos on high-quality, self-adhesive lightweight foam made from recycled plastic. No drilling, no nails. And easily replaceable at any time.
Own production
We produce the photo tiles ourselves. By that, we can ensure high quality and quick shipping.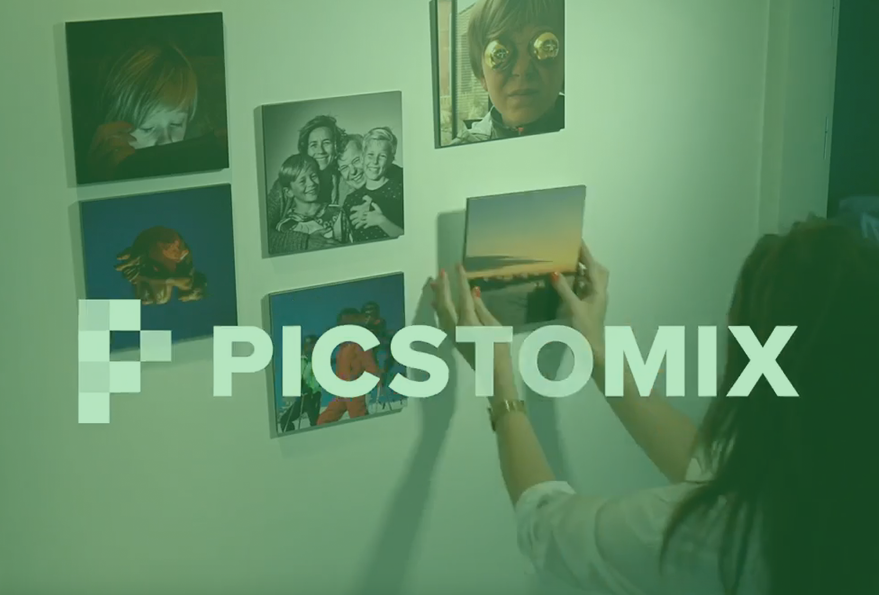 Right to your door.
We deliver your order within 3-4 business days right to your door with DHL or UPS.
How does PicsToMix work?
Our app doesn't need a manual, it's easy! Just download it, mix your pics and finish the order. 
Install the app

Download our app trough the Apple AppStore or follow this link: picstomix.com/app on your phone.
Create a mix

Choose your favorite photos, edit them or use filters for a finishing touch.
We ship

When you have completed your order, we get down to business! We print your photos with care and pack them safely for transport.
What other customers think
We love our users and sometimes they let us know they love us back!
You made it so simple. I love my new tiles!
Roy Benardo
My wall is full of PicsToMix and I love it! Bringing memories to life.
Alexander Los
Frequently Asked Questions
In our app we have a more extensive FAQ but here are some answers. You can also chat with us if anything comes to mind!
How long does shipping take?

We normally ship within 2 business days. Depending on the parcel service it can take 2-4 days for your photo tiles to arrive at your home.

How do they stick?

On the back of the tiles is a special adhesive tape. With that, the tiles stick firmly to every surface.

Which payment methods are accepted?

We use PAY as payment provider which offers: CreditCard (International), Sofort (Germany), iDeal (Netherlands), Bancontact (Belgium), CartaSi (Italy), Carte Bleue (France) and GiroPay.

What are the shipping costs?

Different countries have different shipping costs. We use the prices of DHL or UPS. They start from 8 EUR to 14 EUR, depending on the country you would like the tiles to be delivered.
Order your tiles today!
Select your pictures, create a mix, treasure every moment!